Before i start with what is oracle apps i will tell you what is ERP?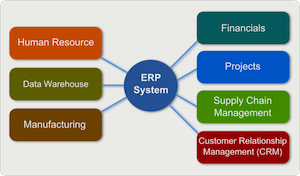 ERP(Enterprise Resource Planning)
is more of a methodology than a piece of software, incorporates several software applications, brought together under a single, integrated interface.To say it as shortly it's Integration of all the modules.In olden days for each module(Manufacturing,Financials, CRM, SCM, HRMS) they maintained individual software but as the business and technology grows there will be a circumstance need to communicate between the modules which not possible using olden technology since each module is a different softwares.But now the oracle corp created a software by integrating all the modules together is called Oracle E-Business Suite otherwise called as Oracle apps.The main competitor of oracle E-Business suite is SAP ( System Applications Products). There are few more ERP systems like Infor,Epicor, Microsoft Dynamics.
Organization of the application modules in Oracle E-Business Suite